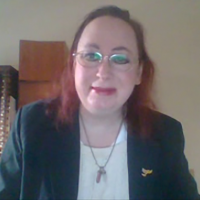 Laurel A. Rockefeller
Teen & Young Adult, Children's, Biographies & Memoirs, History
Profession

Narrative historian, Author
Born, raised, and educated in Lincoln, Nebraska USA Laurel A. Rockefeller is author of over twenty books published and self-published since August, 2012 and in languages ranging from Welsh to Spanish to Chinese and everything in between. A dedicated scholar and biographical historian, Ms. Rockefeller is passionate about education and improving history literacy worldwide.

With her lyrical writing style, Laurel's books are as beautiful to read as they are informative.

In her spare time, Laurel enjoys spending time with her cockatiels, attending living history activities, travelling to historic places in both the United States and United Kingdom, and watching classic motion pictures and classic television series.
Video
Laurel A. Rockefeller presents
Laurel A. Rockefeller Books
Recommended Featured Books
"It's not a faith in technology. It's faith in people."